Amount:Rs 890
Weight:45 grams
Offer:Free wooden spoon and strainer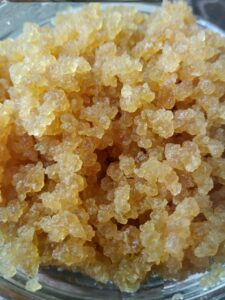 Water Kefir is usually made using various sweet liquids like sugar water or coconut water. To prepare this probiotic-rich and non-diary beverage we also need a starter culture.
Being placed into water with organic sugar they start consuming it and producing a great number of substances, useful for human body. Water kefir can become a healthy alternative to dairy products with lactose, which is intolerable for many people.
How to make Water Kefir?
Things we need:
Water kefir grains: 1 tablespoon.
A clean glass jar: big enough for 1 liter of water.
Water – 1/2 liter.
Sugar: 4 tablespoons
Directions:
Take a glass jar and put 4 tablespoons of sugar into it.
Pour a litre of the chosen water and mix thoroughly.
Then add 1 tablespoon of water kefir grains.
Cover the jar using a cloth with a rubber band and leave in for 24 hours.
After that time, drain the water through a plastic strainer and separate the grains.
Water kefir drink is ready, you can add some flavor like lemon to taste it better.
Re-fill the jar with new water, sugar or coconut water with water kefir grains to make the next batch.
The best fermentation time is 24-48 hours. In the end of this period water kefir acquires a taste of champagne.
How do we send kefir grains?
Kefir grains will be packed carefully with a sturdy and food-safe plastic container with enough milk for kefir grains to be healthy until it reaches you.
We will pack only just right in time at the date of dispatch and we will send you detailed how to make kefir instructions manual through WhatsApp.
Expiration date of the sealed grains will be active and healthy for 12 days from the date of shipment. We assure you 100% about the health of the Kefir grains in transit.