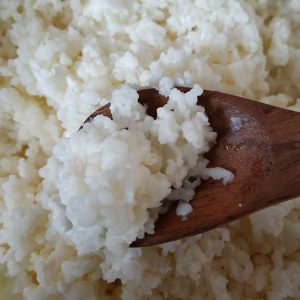 Amount:Rs 499
Weight:15 grams
Offer:Free strainer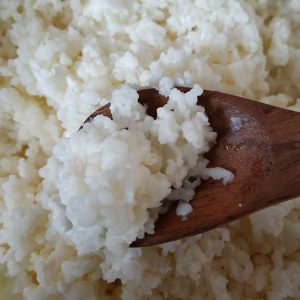 Milk kefir is usually made from live starter Milk Kefir Grains. This contains a complex combination of special bacteria and yeast together with polysaccharides.
Added to milk which feeds these cultures, kefir grains start growing and producing very beneficial and unique components. The unique properties of these components have a very beneficial effect on the functioning of the entire human body.
How to make milk kefir at home?
General Directions:
Before preparing milk kefir, make sure you know some basic principles of handling it.
For better taste use high-quality fat milk (cow, goat, coconut);
Use jars made of glass, spoons and a sieve made of plastic or wood, wash them without detergent;
Do not use any metal when preparing kefir, it can kill the bacteria and yeast;
Do not cover the kefir container with a lid – bacteria must breathe;
Do not put the jar in the fridge or in the sun.
What we need?
A clean glass jar: to begin with it is better to take 1 litre jar.
Kefir grains: a tablespoon of grains
Milk: 1 cup (250 ml)
Wooden or Plastic Spoon
Plastic Strainer ( Preferably Double Layered)
Preparing kefir from the culture is a simple process which becomes rather habitual if we do it regularly:
Instructions
Take 1 spoon of kefir grain.
Put it in a glass jar.
Pour a cup of milk into the jar.
Cover the jar with a cloth and a rubber band.
Leave it for a minimum of 24 hours (Ideal Taste) at room temperature. The longer you ferment kefir, the sourer it gets.
After the chosen time limit when a thick layer forms on the surface, it is fermented and its time separate the grains and the kefir drink.
Pour the liquid into the plastic strainer and stir gently with the spoon. Add some water while stirring if the liquid is very thick.
Use the filtered grains to make the new portion of kefir drink.
Excess Kefir drink can be stored in the refrigerator for further use.
How to Store?
The ready drink can be stored in the fridge for up to 6 days;
If you do not want to use kefir grains within 2-3 days, put them into a jar, pour some milk and keep the jar in the fridge.
You can store it for a longer time in the fridge in a jar by periodically changing the milk. Just like regular kefir making process filter the grains and put it in a jar with the new milk.
How do we send?
Kefir grains will be packed carefully with a sturdy and food-safe plastic container with enough milk for kefir grains to be healthy until it reaches you.
We will pack only just right in time at the date of dispatch and we will send you detailed how to make kefir instructions manual through WhatsApp.
Expiration date of the sealed grains will be active and healthy for 12 days from the date of shipment. We assure you 100% about the health of the Kefir grains in transit.